5th Element Bracelet Series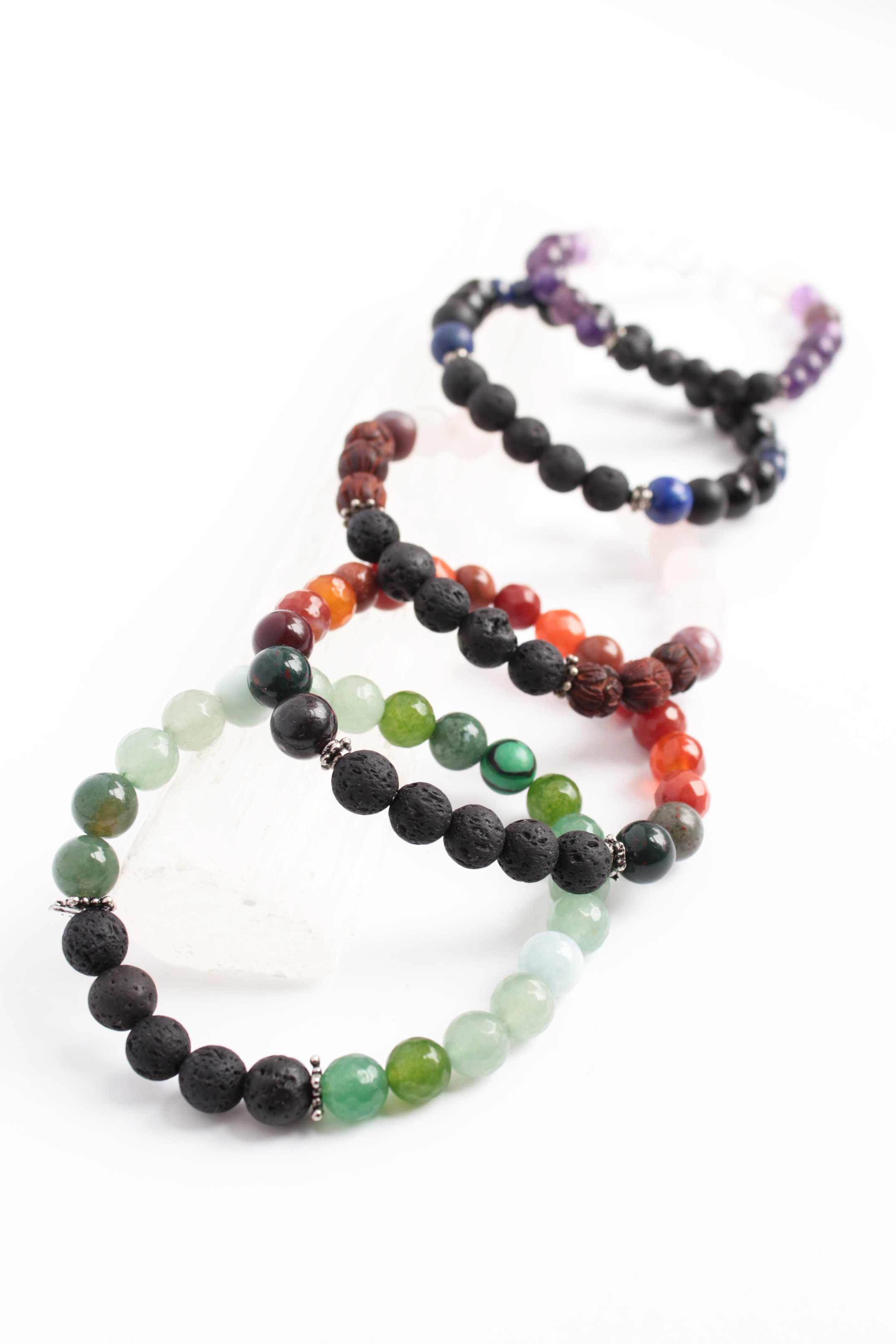 5th Element Bracelet Series
The 5th element bracelet series features a band of 5 lava beads. Lava stone is known to bring strength, courage and stability, touchstone energies of the Malas for Tatas community. Lava stone also makes for a perfect essential oil diffuser. Add just a few drops of essential oil to bring an extra sense of wellness to your day.
Choose from a variety of colors that invoke the added energies of Abundance (image 3), Inspiration (image 4), Serenity (image 5), Wellness (image 6), and Clarity (image 7). Each bracelet is made up of a variety of stones that hold your desired intention.

Abundance- (green tones) Attract prosperity, happiness and good luck into your life with this combination of jade, aventurine, malachite, & amazonite (image 3)
Inspiration- (orange, gray and red tones) Get ready to bring strength, passion and energy into your life with this combination of bloodstone, carnelian, and gold stone. (image 4)
Serenity - (light pink and wood) Feel the energy of unconditional love, release your worries, and be filled with a sense of security with the peaceful combination of rose quartz and wood. (image 5)
Wellness- (black and blue tones) This combination of lapiz and onyx, harnesses your inner wisdom and welcomes wellness as you move forward with protection. (image 6)
Clarity- (clear and purple tones) Harness your intuition, manifest your dreams and feel a deep sense of calm with this combination of clear quartz, opalite and amethyst. (image 7)

Please allow up to 2 weeks for your order to ship.

♥ To purchase, click the "Add to Cart" button then when you are ready to checkout, click on the green shopping cart icon on the top right of your screen. That will take you to our secure checkout. Thank you for supporting Malas for Tatas!